Best Day Trips from Birmingham England
7 Favourite Day Trips from Birmingham UK
---
Birmingham is so wonderfully placed for a day trip, that you'll find no end of things to do whilst based in the UK's second most largely populated city. From the great outdoors to quintessential England, history, adventure and even a spot of theatre, there is so much to do within 0.5-1.5 hour's drive from the city.
Whether you're looking for day trips or overnight getaways, we have a look at the seven very best excursions from Birmingham.
1. Ironbridge Gorge
---
Considered to be the place of origin of the Industrial Revolution, Ironbridge Gorge is 30 miles from Birmingham in the county of Shropshire.
This unassuming village is home to the world's first iron bridge, which is now a UNESCO World Heritage Site. Home to no less than ten museums you will learn everything there is to know about the British Industrial Revolution. A surprise hit with children and an essential destination for anyone with even a passing interest in British History.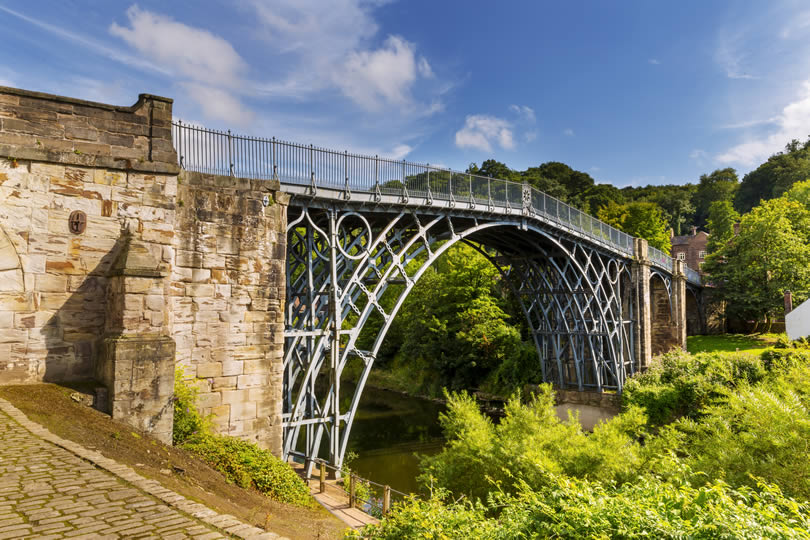 2. Alton Towers
---
The UK's most famous theme park in Staffordshire is just an hour's drive from Birmingham. Home of the famous rides, Nemesis and Oblivion, this is a particularly great place to visit with older children and teenagers.
Get the most from your trip to Alton Towers by arriving early and being one of the first through the gates. Look out for discount entry deals such as Kids Go Free or Adults Go Free that you can find on cereal packets or in newspapers and remember to book your tickets in advance online to save even more money.
Food is pricey inside the park so take a picnic and be sure to leave before the crowds so you don't get stuck in traffic on your way out the car park.
3. The Cotswolds – Area of Natural Outstanding Beauty
---
Make a night of it in the Cotswolds so you can visit more than one of the absolutely charming towns and villages, which appear to be straight off a chocolate box or picture postcard. The well-preserved homes across the region are made in their famous honey-golden brown stone.
The region actually sits across five counties however, and the characteristics of each part change as you pass though. This region really is the county's most quintessentially English area.
Highlights include Bourton-on-Water, sometimes referred to as the 'Venice of the Cotswolds' with its stone bridges and meandering rivers as well as the charming villages of Burford, Kingham, Bibury and the uniquely named Lower Slaughter.
4. Peak District
---
The oldest national park in the UK is around 1.5 hour's drive from Birmingham and a world away from the busy urban life of the UK's second biggest city. The Peak District is worth a night stopover rather than a day trip, as this gives you time to not only discover the beautiful towns and villages but also do plenty of walking, hiking or cycling.
Top villages include the quaint Derbyshire ones of Ashford-in-the-Water and Edensor. Top towns include Bakewell, home of the famous pudding and Castleton; the perfect base for those planning to do some hiking or rambling.
The best attraction is Chatsworth Estate, home of the Duke and Duchess of Devonshire and home to a working farm, maze and adventure play park, as well as many year round events.
5. Warwick Castle
---
Arguably the biggest and best castle attraction in Britain, Warwick Castle is a wonderful place to visit, especially with children.
Just a 35 minute drive from Birmingham, the castle can be done in a day. Warwick is a medieval castle that was built for William the Conqueror back in 1068. The castle is home to the Horrible Histories Maze, the Mighty Trebuchet, the Time Tower, the Princess Tower as well as dungeon tours, battlement tours and plenty of events all year round.
6. Stratford-upon-Avon
---
The famous birthplace and home of the Bard himself, Stratford has more to offer however than simply leaning about Shakespeare. Just 40 miles from Birmingham it can be done quite comfortably in a day.
Shakespeare related highlights include Shakespeare's birthplace on Henley Street, Ann Hathaway's Cottage in Shottery, Shakespeare's burial site at the Holy Trinity Church and of course the Royal Shakespeare Theatre- where you should stay to watch a performance if you can.
Other highlights in this small town include the Wyrd Museum of witchcraft and wizardry and The Falstaff Experience; a chance to step back 500 years for some immersive learning about the Tudors.
7. Royal Leamington Spa
---
One of only two 'Royal 'spa towns in the UK, Leamington is worthy of its status. The town centre boasts elegant Georgian Regency architecture and is the ideal place to while away an afternoon; shopping in its markets and independent shops and enjoying lunch or dinner in one if it's many refined restaurants.
The biggest attraction, the Royal Pump House is home to the Leamington Spa Art Gallery & Museum and also houses year round cultural events.
The good thing about visiting Leamington is that it's under an hour's drive from Brum, which makes it easy to do in a day trip. Leamington is located close to Warwick, in fact the two towns straddle one another. This means that you can pair it up with a trip to Warwick Castle and an overnight stay either of these two charming towns.
Excellent Central England location
---
Thanks to its excellent Central England location and access to many of the country's most stunning towns and villages, Birmingham is the ideal place to base yourself to discover the real England.
From the Area of Outstanding Natural Beauty that makes up the Cotswolds to the striking beauty and charm of the Peak District, not to mention fun and adventure at Warwick Castle and Alton Towers as well as what you can learn about the industrial revolution in Ironbrigde, there really is so much to do on a day trip or overnight stay from Birmingham that deciding which to do will be your biggest challenge!