Seafront Hotels in Brighton
Brighton Seafront Hotels
---
If you're looking for the best seaside break, then Brighton is your perfect choice. It's an amazing holiday destination if you want to have fun and enjoy the sun. However, it's also the go-to place for bargain hunters and nature-lovers.
The city brings something to the table for everyone including a stunning seaside, great party venues, and a fast-growing and stylish food scene. But you'll also enjoy the accommodation options comprising quirky hotels, luxurious seafront boutique hotels, and incredibly stylish hotels or townhouses right next to the beach.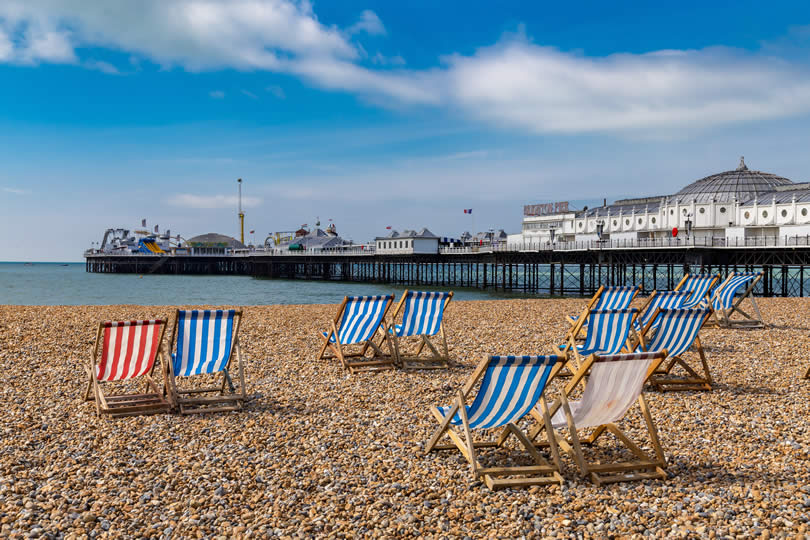 When you arrive in Brighton you'll be astonished by the colourful, buzzy and packed city life. If you're sure that you're ready to soak up everything which Brighton has to offer such as relaxing in beautiful cafes, browsing though the different shops in North Laine, Lanes or downtown, then enjoying delicious cuisine in Hove and Kempton before you go to a stylish bar or club, book more than one night stay in Brighton. You'll adore visiting the Royal Pavilion or the i360 Tower which is a mobile lookout station made by the creatives of the London Eye.
So, to help you get the best out of Brighton, here's a list of the top 19 hotels in the city where you'll feel like in Heaven. Also, we've included info on the seafront scene, downtown, the Marina and what you need to know about seafront parking.
Related
19 Best Sea Facing Hotels
---
The Grand Brighton is an iconic signature for Brighton. This seafront hotel is perfect to book for a fancy binge in luxury or for a special event. It's on Kings Road close to the beach, stylish shops, Brighton Peer and Regency Square, which add to its elegance. Car Parking is available at the property.
The Victorian property which boasts a Renaissance style offers chic rooms decorated with sophisticated furnishings. But you'll also enjoy high-tech amenities and a lovely sea view. And, for mind-blowing pampering, visit the hotel's luxurious spa for a facial or a relaxing massage. Afterward, you can taste the delicious recipes at the Grand's GB1 restaurant.
Check-into the 4-star Jury's Inn Brighton Waterfront found within walking distance from the beach, the city centre, and The Lanes historic square. You can also have fun shopping around or take a break at one of the nearby cafes.
The hotel's rooms include top-quality and sophisticated furniture, and you can use the equipment at the leisure club where you'll find the modern gym and large indoor pool. And, check out the Atrium Bar. You'll be impressed by its refined drinks and by its incredible glass ceiling which is a signature stamp for the Jury's Inn. Public parking is possible on site.
The Square Hotel is just off the seafront of Brighton next to Regency Square. It's a beautiful boutique hotel which makes you feel at home from the moment when you open its doors. The Square oozes in luxury and lets you indulge in sophistication throughout your entire stay.
Aside from the hotel's Cocktail Bar and Lounge, from here you can easily reach Brighton's best restaurants and clubs to get a feel of the city's nightlife. And, the hotel's personal concierge service guarantees a seamless experience to all its guests.
A Room with A View is an upscale and luxurious boutique guest house in the city's centre. If you check-in, you'll be in walking distance to the best shopping and restaurant options in town. The hotel's rooms are spacious and comprise exquisite and modern furnishing, high-tech amenities which make A Room with A View perfect to book for a holiday or a business trip.
Although it's rather pricy for Brighton, guests are astonished by its style and chicness. Its waterfront view, spectacular services, and the delicious morning breakfast make this Georgian hotel come second to none in Brighton UK. Affordable parking is available on site.
5. Drakes Hotel
★★★★

– Boutique Hotel

It's no surprise to us that Drakes Hotel has always received incredible reviews. Its exceptional location close to the beach will make you fall in love with this 4-star chic hotel. Drakes stands out through modern furnishing and décor and the peculiar fitting of baths in the bedroom.

You'll adore the extraordinary sea views while relaxing in the bath and soaking in the breath-taking beach scene. On-site you'll also find a high-end restaurant and a 24/7 bar where you can enjoy a late drink with friends. You can park your car at the property.

As one of Brighton's finest seafront hotels, the Legends Hotel is found within a few minutes' walk from The Lanes shopping centre. Although it's mid-ranged and offers cheap rates, you'll enjoy top-quality services from the friendly staff and beautifully furnished rooms fit for anyone who's travelling on a budget.

The Legends calls itself UK's finest gay hotel, but the reason isn't obvious at first. However, the underground nightclub with cabaret shows and late-night entertainment certainly explains it. The only downside is the noise from the club which can be a problem in some of the rooms. Public parking is possible nearby.

The Lanes Hotel is located just a few seconds from downtown Brighton, the Royal Pavilion, the Lanes shopping square and the exciting Brighton Marina. The hotel's balconies overlook the end line for some of the best events in the city such as the Vintage Cars Race, the Pride bike race and the London to Brighton race.

The 34 rooms are stylish and furnished with top-quality and trendy amenities suitable for families or business people. You can relax at the hotel's bar and have a drink with friends or indulge in getting a beauty makeover at the on-site beauty salon. Also, the hotel offers free parking, so don't worry about arriving by car.

The Granville is a brilliant mid-range boutique hotel found near West Pier and within walking distance to downtown Brighton. Despite its luxurious style, reserving a room is cheap. All rooms are customized to various themes with special designs. And, the bathrooms are also equipped differently. You'll find bathrooms with luxurious whirlpool tubs and others which only have showers available. Also, on the ground floor you'll enjoy having breakfast at Smokeys – an American restaurant which serves tasty made-to-order recipes and local dishes.

However, the downside is that you won't find any fitness or wellness facilities at the Granville Hotel, but you can always take advantage of the beach for your workouts. You can park on street.

This delightful hotel is positioned in the perfect location on Brighton's seafront and overlooks the English Channel and the Hove Lawns. The Lanes square and the Royal Pavilion are also within walking distance, so you'll have plenty to do after checking in at the Best Western Princes Marine Hotel.

It's pretty much a home away from home for families looking for fabulous accommodation and delicious recipes all in the same place. The staff is incredibly efficient and will look after you throughout your stay in any of the 59 guestrooms available at this stylish hotel. And, another advantage is the large parking area available for all guests.

Brighton Harbour Hotel & Spa guarantees a luxurious seafront experience in glamorous surroundings. Book a room at this glorious hotel and you'll be right in the heart of the city, just a few steps away from the beach. The smart and elegant rooms with complimentary sherry and gin make you feel like home.

For complete relaxation, indulge in the hotel's on-site spa and beauty salon or taste the wonderful dishes served at the retro style restaurant. Also, after you finish your breakfast take a walk on the beach. It' just 2 minutes away. Public parking is available nearby.

This 3-star hotel set close to the shopping square in The Lanes and the pier is a marvellous place to spend your weekend. You'll be next to great restaurants and landmarks such as the Brighton Pavilion.

Book one of the 94 rooms at the Queens Hotel Spa to experience an exciting but relaxing stay at one of the most fashionable hotels in the city. Also, the hotel's chic 1-bedroom apartments or the studios with kitchens comprise elegant furniture and bespoke tech equipment fit for any traveller. The No.1 Bar and Bistro awaits all hotel guests with English tea and traditional British dishes.

The Old Ship Hotel is one of Brighton's landmarks thanks to its Georgian features an amazing location. This 4-star excellent hotel is close to the Jury's Inn and just a stroll away from the city's luxurious restaurants, exciting cafes, great shops, and clubs. Parking is possible on site as well.

All the hotel's rooms are classy, elegant and trendy. You'll enjoy top-quality tech amenities and a wide variety of leisure equipment at the hotel's gym. Also, if you're a food-lover, you'll adore the hotel's restaurant menu which offers some of the best traditional meals in Brighton England.
13. Kings Hotel
★★★

– Budget Friendly

You'll find this 3-star hotel close to Brighton's West Pier on the seafront, boasting an exciting but elegant vibe. Its location and high-end tech amenities make this hotel perfect for both leisure and business travellers. All the 95 rooms offer beautiful sea views as well as modern and stylish furnishing. After you check-in, make sure you visit the hotel's bar at K Bar and Pebbles which is daily open to serve British traditional breakfast.

However, if you're arriving by car, make sure you come early to grab a spot in the parking lot which has limited spaces.

You'll see the Holiday Inn Brighton Seafront – a mid-ranged and great value hotel – proudly set on Kings Road, just a few steps from the beach and the i360 Tower. If you check-in, you'll enjoy 24/7 room service in the stylish and hip rooms.

And, if you're lucky, you'll find a room with a balcony so you can soak in the exciting beach scene. All rooms have colourful and trendy décor which will make your stay come second to none. And, if you're arriving by car you can park on-site. The private parking space is fully secured so you can have peace of mind about any valuables which you leave in your car.

The Hilton Brighton Metropole 4-star hotel is set within walking distance from the i360 BA Tower. You'll be amazed by the grandeur of this Victorian building located near the seafront, tourist attractions, and exciting shops. Parking is available.

Each room has modern furniture and stylish décor with smart tech so you can watch your favourite on-demand shows. If you're not up to going to the beach, take a relaxing swim in the indoor pool and enjoy pampering at the hotel's spa. But, if you're nostalgic, you can always visit the retro bar at the Brighton Metropole and a Jazz lunch or dinner with exquisite international dishes.

When you're looking for a fairly-priced hotel on Brighton's seafront, the 3-star Brighton Hotel is your go-to place. This delightful hotel is close to the city's beach, shops, museums, and the i360 Tower. The staff is extremely friendly, and all the 55 rooms are elegant and clean.

However, not all rooms have sea views available, so you'd better check the available options. But you'll enjoy a break at the hotel's elegant lounge and bar which offer stunning sea views. Another advantage of the hotel is the on-site parking lot, so you won't have to worry about finding a parking space on arrival.

Book a room at the Mercure Brighton Seafront Hotel and you'll be within a 10-minute walk of the i360 BA tower and the seafront. All the hotel's 116 rooms are carefully decorated with exquisite furnishing and include high-end amenities also suitable for business travellers.

You'll enjoy the Goulty restaurant which is open from morning till night and serves signature dishes as well as international recipes. And, for after-hours relaxation, you should check out the NH Bar for bespoke cocktails. But, if you're celebrating an important event, the Coast View Suite is adorable. Parking is also not a problem at the Mercure.

The New Madeira Seafront Hotel boasts a prime position in Brighton as it's located right next to the beach, shopping centre and lovely restaurants. You'll also have easy access to the city's centre and the Brighton Pier. If you're a guest at New Madeira, you'll enjoy exquisite services and top-quality facilities which will make your stay incredible.

All rooms are stylish and trendy featuring high-end facilities which are perfect even if you're here on business. However, for some fun, you should go to the on-site Funky-Fish nightclub which is open each Friday and Saturday. Street parking nearby.

The 3-star Royal Albion Seafront Hotel with its 219 rooms is in a prime position close to Brighton's beach, the Sea Life Centre, the Royal Pavilion and the city's centre. You'll enjoy this 3-star hotel's exceptional recreational and leisure options such as the on-site spa.

Try out Jenny's which is the hotel's restaurant where you can order traditional British cuisine or taste some international dishes. And, for a bit of relaxation, check out the Pavilion Bar and enjoy a bespoke cocktail. NCP car park is located around a 10 min walk.
About Brighton's Seafront
---
It's no surprise that Lonely Planet nominated Brighton's seafront as one of the best city beaches in the world. The Brighton Pier, famous for being packed with rides and attractions, is perfect for families looking to have some fun. You can enjoy a variety of watersports including stand-up paddle boarding or kayaking or play Frisbee and volleyball.
But the seafront promenade is an attraction on its own. Here you'll find shops, art galleries as well as bars and restaurants ready to serve you with refreshing ice-cream and exquisite seafood dishes.
What Can You Do in the City Centre?
---
Whether you're looking to have fun, relax or you're on a business trip, Brighton's vibrant and colourful city centre brings something to the table for everyone. Most of Brighton's character is packed in The Lanes square where you'll find many cafes, trendy restaurants, brilliant bookstores, and art galleries.
The Royal Pavilion which comprises the Brighton Museum & Art Gallery is a perfect place to visit for art-lovers. However, at the Brighton Dome, you can enjoy exceptional music, theatre and comedy shows. But, for some laid-back activity, you can try out the themed golf and dayglo course.
A Few Words About the Brighton Marina
---
You'll find just about everything in the Brighton Marina from a multiplex cinema, casinos, wellness centres to bowling alleys. Also, you can enjoy a quick shopping spree around the fashion stores. And, if you're a food-lover, check out the restaurants and wine bars which offer delicious international servings.
Brighton Marina is also home to a luxury yacht club as well as to many water sports such as diving or water-skiing.
What Is the Parking Like at Brighton's Seafront?
---
If you're not familiar with the best parking spots on Brighton's seafront, you may have some trouble with parking your car. And you should know that parking on Brighton's seafront isn't cheap.
If you're only travelling for a single day, you can leave your car at special car parking facilities such as the Black Rock Car Park, the Marine Cliffs Car Park or the Lanes Car Park. But, before you arrive, check the rates, which aren't always cheap and confirm space availability. However, most hotels on Brighton's seafront have parking spaces reserved for their guests so you won't have to worry about finding a space.