How to Save Money in Coventry
Coventry UK: 10 Easy Ways to Save
---
Being sent to Coventry is no bad thing and you can do this top Midlands city for even less when you know what you're doing. From low cost workshops, museums, value eats, drinking for less and how to get around the city without spending any money at all, as well as getting there for less.
If you're planning a trip to this Midlands city then read on for our top ten ways to save money during your stay.
1. Visit the Transport Museum
---
The city's top family attraction also just happens to cost absolutely nothing to enter. Set aside a whole morning or afternoon to do the Transport Museum which charts the history of transport form bikes to the modern day.
The exhibits include some wonderful classic cars and early aircraft.
2. Walk around the Cathedral ruins
---
The haunting ruins of Cathedral are a damning reminder of what happened to the city during the Second World War, and in fact it is one of the most explicit examples of what the Blitz did in the whole of the UK.
The ruins cost nothing to walk around, although the New Cathedral that is attached (and is a wonderful example of mid-century architecture), costs £6 to enter. Those who wish to light a candle and pray in the New Cathedral can do so without paying the entry fee.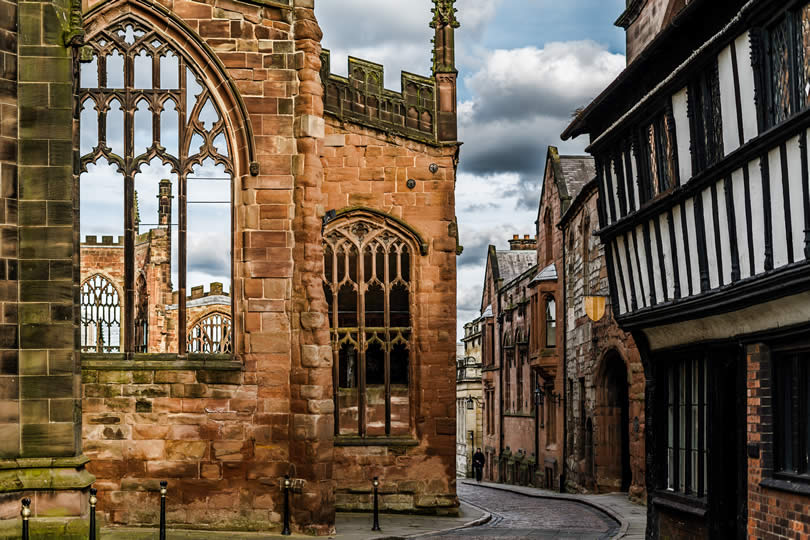 3. Herbert Art Gallery & Museum
---
The third most popular attraction after the Cathedral and the Transport Museum is the Herbert Art Gallery and Museums and guess what- it costs nothing to enter!
The art gallery celebrates a blend of both local and global art whilst the museum explores regional history and culture. The Herbert also hosts a busy calendar of events, many of which cost nothing to attend such as art workshops and family events.
Be sure to pop in when you first arrive in the city to find out what's on during your stay. The foyer of the gallery is also the new home of the Tourist Information Centre where you can pick up maps for £0 and information on things to do.
4. Pack your walking shoes
---
Despite its growing population, the city centre is on the small side when it comes to UK cities.
That means you can practically walk to every attraction, restaurant, bar or shopping area during your weekend without even paying for a single bus journey or taxi ride.
Free nature activities
The city's newest nature reserve, Bubbenhall Woods, is free to enter and open all year round.
The reserve can suggest activities such as fungi or butterfly finding and den building, or you can take advantage of one of the many low cost events such as Teddy Bears Picnics, Dawn Chorus Walks and Bushcraft Skill Sessions.
5. Get here on the cheap
---
If you are travelling to the city from a major city such as Manchester, London or Edinburgh you can get a discount coach courtesy of Megabus for less than the price of a hot meal (this will involve a change apart from journeys form London which are direct).
The other way to get there for less is to book your train fare well in advance with a third party provider such as trainline.com.
6. Take in art, history and industry in one walk
---
The Canal runs from Hawkesbury Junction to the Canal Basin and as you walk along it you can enjoy the Canal Art Trail which celebrates various objects and people from history in statue form, including the engineer of the canal himself, James Brindely.
Pick up a trail map at the Tourist Information centre at the Herbert Gallery.
7. Enjoy Student happy hour
---
As a thriving student town, the city is no stranger to low cost drinks deals. At The Establishment on Bayley Lane Happy Hour is actually five hours long from 4 pm until 9 pm, when you can enjoy two for one deals on all cocktails.
Depending on which days you are in the city, The Holyhead on Holyhead Road has a number of offers. This includes Cask Monday (cask ale just £2.50 a pint), Fizz Friday (bottle of fizz just £10) and Wine Sunday (bottles of wine under a £10).
The Aardvark on The Butts sells two cocktails for £6 on Friday nights. Alternatively head to Carters Sports Bar for gratis shots before 11 pm.
8. Head to Fargo Village
---
This artsy centre includes a host of independent shops, artist's workshops, vintage shops and more, many of which you can simply wander around to pick up bargain vintage finds or enjoy music and art in the making.
There's also plenty of places here to enjoy a cuppa and a slice of cake.
9. Market shopping
---
The city's main Market is a busy and vibrant market that takes place six times a week. The Eastern Bazaar is a huge stall found in the market which sells a wide range of clothing that includes cheap pashminas, ladies and children's abayas and headscarves.
The Bazaar is certainly worth looking at when also wandering around Coventry Market for some real bargains. Whilst at the market pick up a low cost lunch from one of the many food stalls or alternatively enjoy a wallet friendly breakfast fry up at the Market Café.
10. Eating out for less
---
The city is home to all the big chain means you would expect to see in a British town centre.
The best way to eat for less is to either buy a Tastecard and enjoy 2 for 1 meals, or to search for vouchers and discounts on voucher sites.