Best Ways to Enjoy Leicester on a Budget
Leicester 10 Ways to Enjoy on a Budget
---
Nestled in the heart of the East Midlands, with a proud history dating back 2000 years, Leicester is one of the UK's biggest and oldest cities. Leicester gained worldwide attention in 2015 when King Richard III was given a lavish funeral at the grand Leicester Cathedral, but there are plenty of other reasons to visit this friendly city.
From the well preserved Old Town and the award-winning Abbey Park to the National Space Centre and the famous Golden Mile, there's so much to see and do – and it's possible to do it all on a budget.
1. Free Festivals
---
If you can be flexible with the dates of your visit, you can plan your stay around a whole host of fun and free activities held in the city centre. If you're travelling with children, you might want to drop by the Spark Festival, held every May. Aimed at youngsters from babies up to the age of 13, there will be theatre, dance, music and digital media events to get involved in, lasting from just a day to a weekend, free of charge.
From May up until September, live bands will be playing everything from jazz to pop and rock in parks across the city as part of the Bands on Parks Season, and on the first weekend in June, Leicester Riverside Festival is one of the cities biggest free festivals, featuring fun events on and off the water.
Finally, August's Leicester Caribbean Festival is a rival to London's Notting Hill Carnival, celebrating Leicester's multi-cultural heritage and Caribbean traditions.
2. Kids Pass
---
This is another great one for families and a top tip for saving the pennies on a day out in Leicester. A monthly or annual membership to Kids Pass will net you 40% off child and adult cinema tickets and a discount of up to half price on over 4500 UK family days out.
Using the handy app or physical pass you can also get free meals for kids in a choice of top restaurants in Leicester and beyond.
3. Vouchers, Discounts and Deals
---
In the days and weeks leading up to your stay in Leicester, be sure to keep a beady eye on popular discount sites such as Groupon and Wowcher, where you can download vouchers for up to 80% off the cost of top restaurants and family attractions in the city. Bargain!
4. Combination Tickets
---
Not all attractions were created equal – some come with bonus two-for-one deals. The New Walk Museum and Art Gallery features permanent exhibits on both ancient life and the Egyptian period as well as a notable works by German expressionists and others in the art gallery, all for the price of one ticket.
Newarke House Museum and Gardens. Learn about Leicester's 20th Century history and enjoy a stroll in some beautiful manicured gardens to boot with your entry.
5. Budget Accommodation
---
Making reservations in advance is a great way to get a good deal on your accommodation. Leicester's popular Belmont Hotel offers a 15% discount to those who book a just a fortnight in advance, for example.
However, even last minute travellers can find a cheap room at one of the city's great chain hotels, such as the Ibis Budget Hotel Leicester, Premier Inn Leicester City Centre Hotel and the Campanile Hotel Leicester.
6. Free Exhibitions
---
Leicester City Council manages five museums which are all free of charge.
Check out the beautiful, historic Guildhall, explore Belgrave Hall and Gardens and learn about Leciester's industrial past at Abbey Pumping Station just for starters.
7. Explore the Great Outdoors
---
Abbey Park is an award-winning public space in Leicester. Bisected by the River Soar, it features the ruins of a 12th Cebntury abbey and historic stately home, as well as a sensory garden and miniature railway. For sports enthusiasts there's even a tennis court, bowling green and boating lake. There are also separate play areas for both children and pets.
Stop by the Visitor's Centre for more information and to plan your day out. Alternatively, soak in some views on New Walk, an 18th Century public walk from the university to the city centre. Offering a selection of urban street scenes along the way, it's been a popular public walkway for 200 years.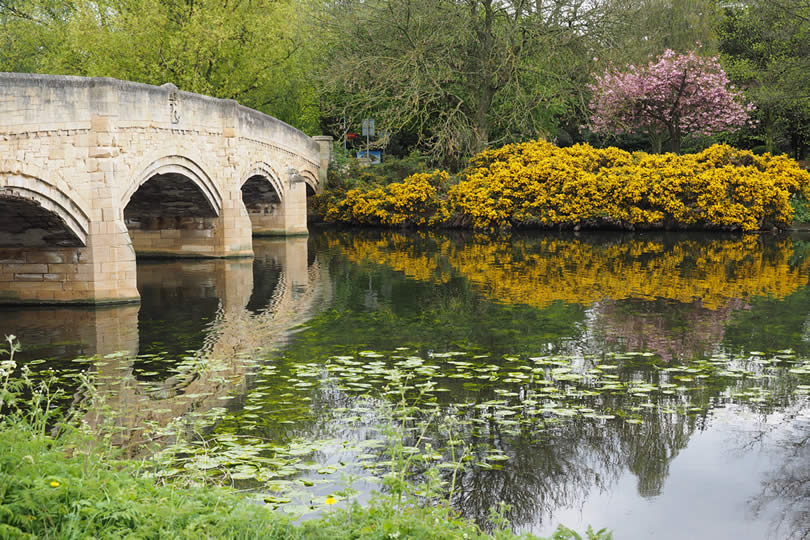 8. Street Art
---
Art aficionados will find plenty that piques there interest in Leicester, and it's all available to see for free on the city's streets.
Some of the UK's best graffiti artists have contributed works to the public domain, with famous murals to be found on Clarence Street, on the side of the Graff HQ shop, with other works, particularly influenced by the city's 2016 sporting victory located on Kate Street and St Augustine Road among many others.
9. Shop at the Market
---
Leicester is famed for it's city market, and rightly so – it's a treasure trove of discounted goods.
Pick up fruit and vegetables at the outdoor market and fish and deli meats from the indoor market to make a cheap dinner for the family, as well as bagging a bargain on souvenirs, jewellry, and the latest fashion designs.
10. Stay, Play, Explore
---
Exclusive to Leicester, Stay Play Explore offer cheap weekend breaks in the city with discounts that will make keeping to your budget a doddle.
There are a range of short break experiences on offer, including deals for families including a cheap stay at a four star hotel and visits to three world class local attractions and budget trips for couples and friends including accommodation in a top hotel and three unique city experiences. Choose from themes including gourmet food, history and heritage and even special breaks for vegetarians and vegans.