Hampton Court Best Tips for Visiting
8 Tips for visiting Hampton Court Palace
---
Hampton Court Palace is a wonderful day out for all the family and is within easy reach of the city of London. Originally constructed in 1514 by Cardinal Wolsey, the palace is best known as the former home of King Henry VIII and five of his six wives, although many other notable monarchs lived here including Elizabeth I and Charles I.
First opened for public visiting during the 19th century, Hampton Court is a popular tourist attraction for visitors from all around the world. However there is a lot to see and do here, so this is a helpful guide offering 8 handy tips to make the most of your day.
1. Planning Your Budget
---
The entrance fee for Hampton Court doesn't come cheap if you buy on the door, however there are ways to bring down the costs to a more affordable range if you are on a budget.
If you shop at Tesco and have a Clubcard, you can exchange some of your points for discount vouchers for this attraction that can help you to make a significant saving. If you travel by train you can also benefit from a two for one offer simply by showing your valid ticket.
By searching discount code websites online you may also find voucher codes periodically that may entitle you to money off the entry fee, so it's always worth checking before you pay the full price.
2. How To Get There
---
Using London's convenient public transport system is the best way to get to Hampton Court. You can either travel on Southwest Trains taking the service from Waterloo Station or take one of the many buses that stop at the palace. Numbers 111, 511, 216, R68, 513 and 461 all serve Hampton Court and represent a convenient way to get to the attraction without having to worry about parking.
For a more unusual way to get to the palace, you could consider taking one of the tourist cruises from Kingston upon Thames, Richmond upon Thames or Westminster. While this is a fun and scenic way to travel, bear in mind that it will take longer and therefore you will have less time to visit the palace itself.
3. Taking Your Car
---
If you would prefer to take your own car instead of using public transport you will need to find suitable parking at the attraction. While the palace itself has a parking area, it is very small and during peak periods you will probably find that it is very crowded. Luckily, there is a second option.
If you pass the palace, travelling west on Hampton Court Road, you will find that there is a second car park which is larger. While you will need to pay a fee to park here, it is actually cheaper than the main car park, and it is quick and easy to walk to the entrance from here.
4. Give Yourself Plenty Of Time
---
Many visitors make the mistake of rushing around Hampton Court because they didn't leave enough time to see everything. The palace and its grounds are very large and it is certainly an all day attraction, so if you arrive after lunch you won't be getting value for money.
To maximise your enjoyment, make sure to arrive as early as possible and then you will have a full day to get everything done. Only allowing yourself a half day visit means that you will be very rushed and will miss out on some of the exhibits.
5. Listen To The Guides
---
Hampton Court offers costumed guides who will give you a deeper insight into the palace and help you to learn more about the history of the building. Dressed in Tudor costume, these guides are not only informative but also very entertaining to listen to, making the palace more accessible to visitors, and especially children.
Feel free to ask any questions that you may have or just listen to what they have to tell you – it will certainly enhance your experience.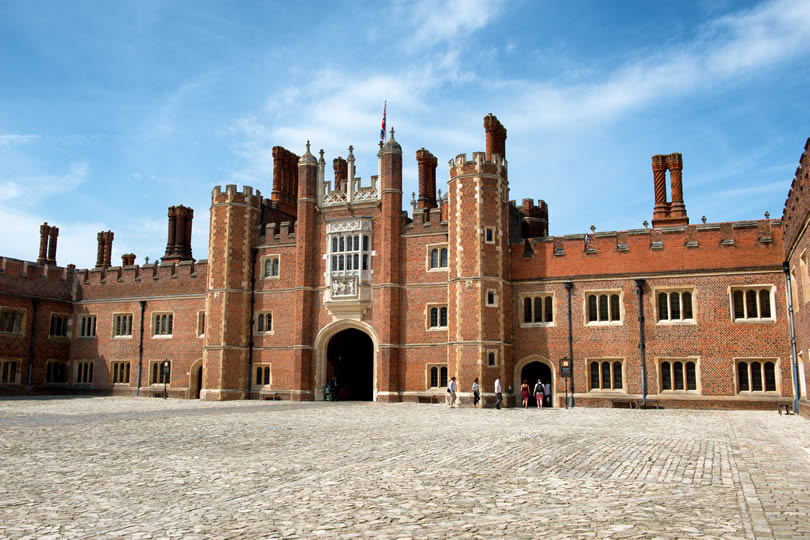 6. Entertain The Kids
---
Visiting historical attractions may not sound like a lot of fun for the kids, so if you are travelling with the family in tow you need to find ways to make the day more appealing to the little ones.
While some children will enjoy interacting with the costumed guides, there are plenty of other things to see and do in the palace to keep the kids engaged. The family audio tour is pitched at the right level for younger members of the family while there is also a downloadable app which helps kids to explore the palace.
Pick up a family trail and enjoy quizzes and fun activities or take some time out in the family room with its dressing up box, lego and books.
7. Stay Comfortable
---
Hampton Court is a long day out and involves a lot of walking, so you need to be well prepared. Wear comfortable shoes and remember to take an umbrella or raincoat if the weather seems likely to turn since visiting the grounds is a big part of the attraction.
If you are taking bags with you, you can use the luggage facility which contains lockers where you can store anything that you don't want to carry around with you.
8. Visit The Grounds
---
Remember to leave enough time to visit the grounds as well as the interior of the palace itself. The palace's gardens and landscaped areas cover 750 acres and are well worth exploring.
You certainly won't want to miss the Maze which is the oldest and most famous puzzle maze in the world.