Scarborough 10 Cheap Things
10 Things To Do In Scarborough On A Budget
---
Scarborough is a great place to spend a weekend or short break, whether you're travelling solo, as part of a couple or with the whole family. This beautiful part of the east coast has plenty to see and do, with attractions to suit all tastes. Whether you are fascinated by history, are looking for relaxation or want to enjoy the beauty of nature, there are attractions in and around this lovely town to suit every taste.
If you are holidaying on a budget, it can sometimes be difficult to keep yourself entertained, but Scarborough is home to plenty of cheap and free attractions that will fill your day.
1. Enjoy Some Culture
---
For just £3 per adult, you can buy a year-long ticket to Scarborough's Art Gallery and Rotunda, and under 18's can even get free admission.
This great value ticket gives you access to a wonderful exhibit of fine art, including works by both local and internationally renowned artists, all housed in a stunning Italianate villa in the heart of town.
2. Discover Scarborough's Heritage
---
As part of the £3 entry price to the Art Gallery, you can also enjoy entrance to Scarborough's Rotunda Museum.
Packed with interesting objects, this is a great place to learn more about the ancient heritage of this region, thanks to exhibits as diverse as fossils, a head-dress made from a deer skull and a Bronze Age skeleton.
3. Take A Walk In The Park
---
Scarborough's Peasholme Park is free to enter all year round and is a wonderful place to spend a relaxing day strolling around the tranquil lake, feeding the swans, ducks and geese, and picnicking in the glen.
If you're visiting during the summer, you won't want to miss the unusual spectacle of the Naval Warfare Battle during which model ships recreate famous battles on the lake.
4. Take A Hike
---
Keen walkers will enjoy a bracing hike along the Scarborough to Whitby Rail Trail.
Sometimes known as the Cinder Track, this 21 mile-long route takes in many of the region's most beautiful sights and countryside including the Larpool Viaduct and Robin's Hood Bay.
rong>.
5. Relax On The Sands
---
If you're lucky enough to visit Scarborough on a sunny day, there is no better way to pass the time than by relaxing on the town's beautiful golden sandy beach.
Soak in the rays on North Bay, build a sand castle or even dip your toes in the water for a free day out that is ideal for every member of the family.
6. Enjoy The View
---
While The Cleveland Way runs for over 100 miles across the Yorkshire countryside, the 12 miles between Robin Hood's Bay and Scarborough provide budget travellers with a wonderful opportunity to admire impressive views and to enjoy the great outdoors.
Discover "the town that never was" at the Ravenscar Visitors Centre and take a rest by the pretty waterfall and pebble beach at Hayburn Wyke.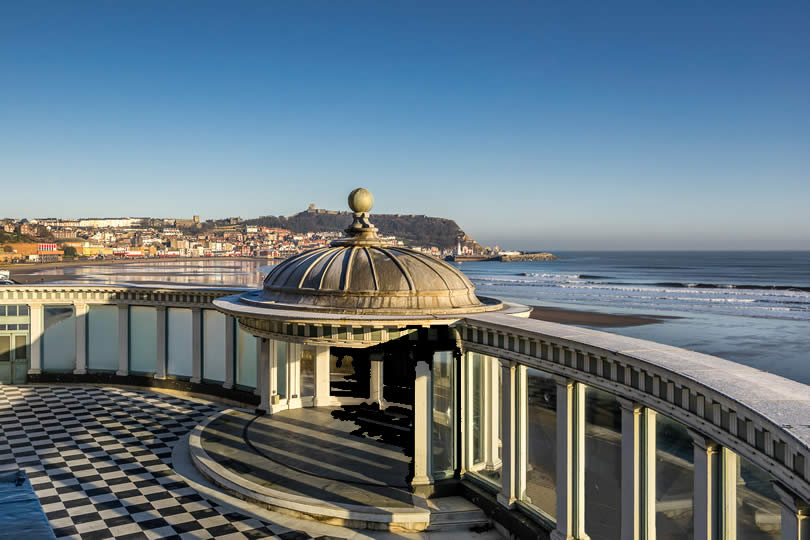 7. Uncover Some History
---
If you're a member of English Heritage you can enjoy a visit free of charge to Scarborough Castle, but even if you don't have membership the entrance fee won't break the bank at just £5.90 per adult or £15.30 for a family ticket. The audio tour helps visitors to discover 3000 years of history, from an Iron Age settlement to the First World War bombardments.
Learn about the story of the town at the castle exhibition, which holds interesting artefacts that date back to prehistoric times. Boasting spectacular and panoramic views over Scarborough's North and South Bays, this unique vantage point even offers the ideal spot to enjoy a picnic.
8. Grab A Bargain
---
Bargain hunters will love to explore the giant car boot sale at Lebberston. Held every Sunday from March to October, this boot sale is a great place to find all kinds of unusual items as well as great value toys and clothes, and the kids are sure to be entertained by the bouncy castle – and all for the budget cost of 20p per person.
Visiting on a rainy day? Then why not enjoy a bit of retail therapy in the Scarborough Market Hall – an indoor market on two levels where you can sample local produce, find hand-made jewellery and even buy personalised clothing.
9. Enjoy A Free Event
---
Scarborough plays host to countless free events throughout the year, all of which can be enjoyed by travellers on a budget.
Annual occasions like the Armed Forces Day and the SEAFEST Maritime Festival give holidaymakers the perfect opportunity to enjoy cheap or free entertainment including the Red Arrows, live street theatre and firework displays.
10. Ride The Bus
---
If you're keen to see the sights of Scarborough and its glorious seafront from a different vantage point, why not take a coastal trip on one of the town's open top buses? Tickets cost just £2 for an adult or £1 for a child, so it's a budget friendly way to explore the coastline.
For even better value, buy a day pass and hop on and off all day.