Romantic destinations South East
Romantic Breaks in the South East of England
---
You've planned the wedding of your dreams in a stunning country house venue and you're now looking for the perfect romantic honeymoon break.
Or, maybe a special wedding anniversary is coming up and you want to celebrate without travelling too far and want a romantic break without the hassle of airports. Then the South East of England won't disappoint with its choice of romantic destinations.
Stroll hand in hand on country walks, sup oysters and beer together, sit on beaches as the sun sets or visit picture-book pretty castles where the lovers of the past have been wooed and wed.
The South East of England has all this and more so we've put together a small selection to start the ideas flowing.
Leeds Castle in Kent
---
No lovers can resist the romantic allure of Leeds Castle. Its outline is reflected beautifully in the moat at any time of day or year but is particularly charming at sunset. Make believe you're the lord and lady of the manor as you tour its beautiful interior furnished with fabulous Art Deco touches.
And, even better, you don't have to go home at the end of the day. Accommodation is available in the Maiden's Tower or indulge yourself with luxurious glamping in a medieval-style tent. Don't head to your bed, though, until you've enjoyed a private candlelit punt on the river.
Oysters at Whitstable
---
Whitstable is not a pretty-pretty town or beach but everyone who visits falls in love with its slightly Dickensian charm and quaint high street. As everyone knows oysters are famous for their aphrodisiac powers and as Whitstable is the "home of the British oyster" where better place to try them.
Take a stroll from the pub on the beach at one end of town to the colourful rows of vintage beach huts at the other end before returning to one of Whitstable's many excellent oyster restaurants. Dine in or have a few to go and enjoy them on the beach. Don't forget to wash them down the traditional way, with a glass of local beer or push the boat out and partner them with a bottle of champagne.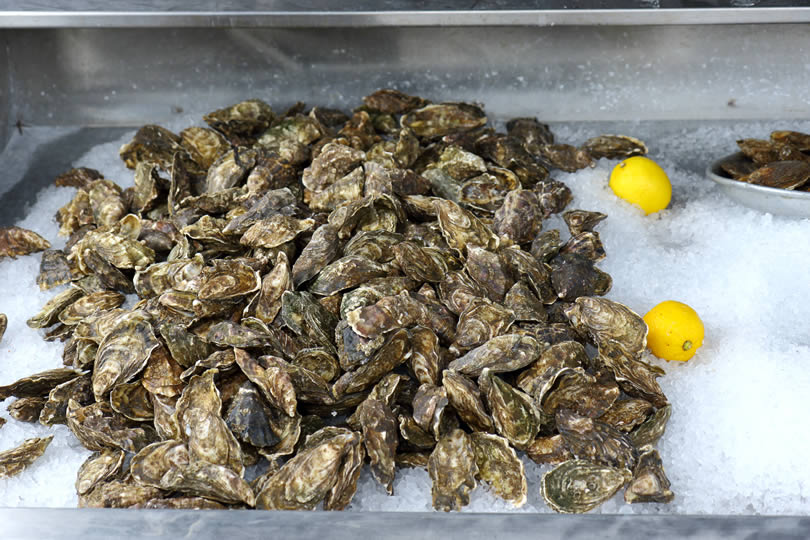 Elmley Nature Reserve
---
If you enjoyed the Dickensian charms of Whitstable then you'll love Elmley Nature Reserve. It's said that this landscape of marshes inspired Charles Dickens when he was writing Great Expectations and your expectations won't be disappointed.
Peaceful meadows and waterways are full of wildlife as well as heritage and history. You can visit the house where King James II was imprisoned in 1688 during the Glorious Revolution or explore the remains of a Victorian village. Take a photographic course together before spending the night in an old shepherd's hut which has been luxuriously converted into guest accommodation.
The White Cliffs of Dover
---
Stay in the pretty county of Kent for one more venue and head South to the iconic White Cliffs of Dover. Get away from the crowds and take in the expanse of sky, the glittering sea and the fresh country air.
There'll be just the two of you on the famous cliff tops looking out for a romantic glimpse of France in the distance. Pack a traditional picnic hamper with some delicacies and chilled sparkling wine and make the most of your romantic time together. You'll find plenty of indulgent country house hotels and spas in the area when you're ready to head indoors.
The charms and history of Windsor
---
Of course, no visit to the South East of England would be complete without a romantic visit to Windsor. Tour the splendid staterooms of Windsor Castle, the largest inhabited castle in Europe and the Queen's favourite home.
Marvel at the golden state carriages in museums housed in the old stable mews before tucking into a delicious afternoon tea with scones, cream and a glass of champagne. Don't forget to take a romantic horse and carriage ride through Windsor Great Park.
Champagne and romance in London
---
It's not hard to search out romantic destinations in the country's capital but two of our favourite spots for lovers in London are the London Eye and Keat's House. Take a sunset flight on the London Eye just as the sun is setting and the river and city skyline are basked in a golden glow. When you board Cupid's Capsule Flight you're indulged with champagne, chocolate truffles and your own discreet onboard host.
Few writers conquered the love poem quite like John Keats. Visit the John Keats House Museum in Hampstead and see where he fell in love with his neighbour, Fanny Brawne. This inspired him to write such poems as "Ode to a Nightingale". Conjure up some romantic words of your own as you gaze at Fanny's engagement ring and locks of their hair.
Jane Austen's Chawton
---
Jane Austen was definitely a writer who knew about love, romance and the rituals of 18th-century courtship and marriage. She wittily wrote about it all in novels such as Pride and Prejudice and Persuasion.
This charming Georgian house museum with its small but elegant rooms and gently sloping floors and ceilings transports you back to an era when romance was ruled by etiquette. Chawton itself is one of the prettiest villages in Hampshire and the perfect place for a romantic holiday.