Budget Guide Brighton England
Money saving tips in Brighton UK
---
Arguably one of the most exciting and trendy destinations in the UK, Brighton is a seaside town with a difference. Having fun in this city however can be a costly experience if you're not organised.
Voted the UK's 'Hippest city', you can still enjoy yourself in this seaside resort on a shoestring budget. Hostels offer low cost rooms whilst free outdoor attraction a can be found from the beach to the marina and the pier. From eating cheap to getting around and visiting free attractions, read on to discover how to experience this city for less but still have a whale of a time.
Getting to the city
---
Most visitors will come from London and the cheapest way to arrive is via coach or bus, such as the Megabus, which is just a few pounds. National Express is more costly than these most budget coaches, but they do travel more frequently and you can also save with a coach card.
This train route is notoriously expensive, unless you book well in advance and travel outside of peak hours, in which case you can save significantly.
Getting around
---
Provided you plan on staying in the centre of the city where the beach, the restaurants, the clubs and the shopping are all found, then the cheapest and fastest way to get around is to walk.
If you think you'll need to travel further, consider a one day, two day or three day bus pass. These work out much cheaper once you start taking more than two bus journeys per day. Avoid taxis which are expensive.
Accommodation
---
During peak season accommodation can be very expensive. A good way to save money is to consider a hostel, many of which offer double or triple rooms where even all the beds together cost less than a hotel double.
Staying in a bed and breakfast or guest house can be also a good option if you are staying just a couple of nights.
Eating out
---
Eating out isn't cheap in this city, unless you know where to go. Low cost favourites amongst include Seven Bees and New Club. Alternatively browse through a listings site like Voucher Cloud to find a discount for a chain restaurant; most of the major chains are found in the city.
Fast food is always one cheap option and so is a bag of chips on the beach. If you're visiting as a couple you can save significantly by eating out for lunch rather than dinner. This is because many pubs offer meals at prices such as two for a tenner (or similar), effectively making them half the price of evening meals. Another good option is to have your main meal of the day at breakfast; full English's can be found all over the seafront for less than a fiver.
When it comes to partying this can be costly too. Look for bars that are open late but don't charge entry, as opposed to the big clubs. Also look out for happy hours where you can find good deals on 2 for 1 cocktails and cheaper pints.
Parks and gardens
---
The city is home to numerous parks and gardens that are completely free to visit. They are the perfect places to read a book, kick a ball or have a low cost picnic.
Beautiful parks include St Anne's Wells Gardens in Hove that are meticulously landscaped and house a children's play area and tennis courts as well as numerous walking trails. The nearby South Downs National Park is home to the vast Seven Sisters Country Park, which is a great place to go on a long walk and Devil's Dyke, a natural site wih stunning views and a great place to see wildlife.
Free things to do
---
The Beach
Famously pebbly instead of sandy, the beach is still very popular. Boasting a lifeguard in peak season and plenty of space to find your own spot as well as waters that are clean enough to swim in, the beach is by far the cheapest attraction in the city.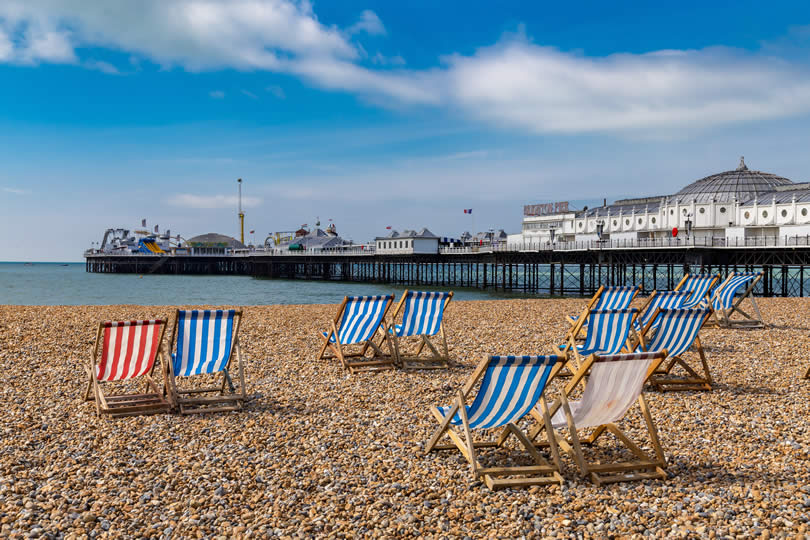 The Pier
The famous Pier is completely free to enter, many budget travellers walk along it, especially at dusk to watch the sunset and simply avoid the costly amusements and rides.
Free culture
As arguably the greatest cultural hotspot on the south coast (and oft referred to as London-on-sea by locals) there are plenty of cultural attractions in the city, many of which are free. The Fabrica contemporary visual art gallery is completely free to visit and is a great place to escape the crowds on a hot day.
Free concerts and music events can be found during the summer season too.
Free attractions
The city is home to some free attractions including the Booth Natural History Museum. As a major Brighton landmark, the Royal Pavilion is not free to enter but the gardens are free for visitors to wander abound, have a picnic and view the exterior of this stunning building.
Hove Museum and Art Gallery houses all sorts of curio touted and is free to enter.
Brighton Marina
---
So you've done the parks, the beach, the pier, the free museums and art galleries but still have time left in the town and don't want to spend money? Head to the Marina, a buzzing part of the city with free to use table tennis tables and outdoor chess.